Wholesale
To Login to our Wholesale Ordering System click on the button below, and login using the credentials you would have been given.
At Bread 41 everything we bake, make or sell, embodies our passion for traditional methods. We make organic bread and pastries, and our breads are hand-crafted, baked daily in the early hours of the morning with sourced organic flours. Our bakery is home to a small team of very committed people who love what they do. Pop by the hatch or order online in advance.
Our Breads
Flour, water, salt and lots of time
Our breads are a labour of love and time. Our recipes are traditional century- old recipes using natural ingredients with locally sourced organic flour, some of which is milled on site at our bakery, Bread 41. All of our loaves are borne of 100% sourdough starters. This means they are leavened entirely from wild yeast and bacteria starter doughs which we work on daily. Given the slow fermentation process, our breads can take up to 48 hours to make from start to finish. This process ensures that the breads are more easily digestible and much better for your body. We try to make some of the most delicious breads in Dublin and we invite you to come down and find out for yourselves. Our head baker is Eoin Cluskey. Swapping fine dining for baking, Eoin followed in his Nana's footsteps. Along with the support of a passionate team of bakers, he has developed a fantastic range of great breads.
Real Bread & Beautiful Grain
Knead to know
Working with some of the finest flours is the essence of our breads at Bread 41 . We are increasingly sourcing from Irish farms who are beginning to grow a diverse and ancient variety of grains. These grains are not only better tasting but more sustainable also. We use local Irish grain where possible and our flours are truly wholemeal and organic, meaning they contain nothing but the wholegrain and all of its natural goodness.
Love your Loaf
Attention is a form of love
Our breads have a lot of whole grains in them given the ingredients used. The whole grain bread is not done baking until it has cooled down and the rye bread typically needs to rest overnight to ensure they are finished but will last for days afterwards. To keep your loaf fresh, leave them cut-side down on your cutting board, slicing additional slices as needed. We do slice bread in our Bread 41 bakery/eatery and while this is more for convenience, it is suggested you leave your loaf whole. This will protect the inside of the loaf from drying out, while also enabling the crust to maintain its shape and bite. Your bread should last for days if you look after it in this way.
We are currently reviewing our wholesale operations. If you are interested in opening a wholesale account please fill out the form below for consideration. We are currently not taking on any more wholesale customers.
BAKERY MENU
Shapes may vary
Shakelton 7 Seed
Made with three different cereal grains and seven different seeds. The Shack as we call it, is a hearty loaf.
Glentie Malt loaf
Made with three malted organic grains, three varieties of soaked seeds and our white sourdough starter.
Wicklow Mountain Rye
Sixty percent rye, this loaf has a gentle flavour and an unusually light texture with a great bite and flavoursome taste.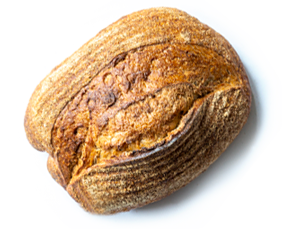 Granary Brown
Our Granary brown is made with whole wheat flour, bread flour (wheat), sourdough culture, and sea salt.
Oat Porridge
This loaf contains sourdough, whole rye and roasted oatmeal giving it a moist, tender and amazing flavour.
Wholegrain sourdough
Made using a wholemeal wheat flour, white wheat flour, and organic wholemeal rye flour, this heritage loaf is a favourite.